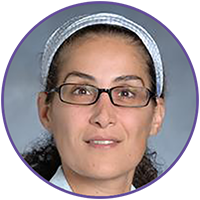 Get to Know Dr. Al-Aouar
Dr. Al-Aouar has called Michigan her home for over 30 years. She graduated from the University of Michigan – Dearborn after a successful collegiate career and a College of Arts, Science and Letters education. After Medical School at Wayne State University, she started her specialization in the field of Obstetrics and Gynecology. Dr. Al-Aouar chose this specialty in order to provide care and support to women at multiple stages of their lives. She educates her patients about lifestyles that help prevent disease and maintain health. Dr. Al-Aouar enjoys caring for women from the teenage to the geriatric age groups.
Furthermore, Dr. Al-Aouar thrives on providing care to both low and higher risk pregnancies. She values the connections with her patients and believes a healthier pregnancy results from close follow up and support.
In addition to the primary and preventive care, Dr. Al-Aouar holds a special interest in certain gynecological conditions like fibroids, cervical pathology, and dysfunctional uterine bleeding.
Dr. Al-Aouar joined Michigan Women's Care in 2018, but she and Drs. Khraizat and Bui have been colleagues at the hospital for over ten years.